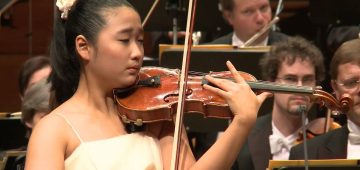 Sueye Park is one of the most remarkable talents of her generation.
She was born in South Korea in 2000 and began studying the violin at the age of four. Her musical gifts were recognized early on, and already at the age of nine she began her studies with Prof. Ulf Wallin at the Hochschule für Musik "Hanns Eisler" in Berlin.  She has also taken part in masterclasses such as with Saschko Gawriloff, Guillaume Sutre, Mastercourses for Violin at the Kronberg Academy by Mihaela Martin and the International Keshet Eilon Mastercourses in Israel, instructed by Ida Haendel and Ivry Gitlis.
As a soloist Sueye has performed with orchestras including as the Staatskapelle Weimar and the Magdeburg Philharmonic among others.  Already at the age of 11, she appeared as a soloist with the Orchestra of the Komische Opera Orchestra in Berlin with the Paganini Concerto No.1.
She has also performed at various festivals and concert halls in France "Musique sur Ciel", Tarn, Germany "Schumann-Fest", Zwickau, Israel, Italy, South Korea "Lotte Concert Hall", Seoul, Spain, Sweden "Båstad Chamber", Switzerland, Czech Republic and in Tunisia "the Roman Amphitheater of Thysdrus" El Djem.
Sueye has participated in numerous radio and TV broadcasts in Germany, Israel, South Korea,
Spain, and Sweden. In 2017 her début disc was released, a critically acclaimed recording of the 24 Paganini Caprices and in 2018 "Salut d'amour" with violin and piano for the renowned CD-
label BIS. Next recordings: Works of the 20th Century for Violin Solo and Showpieces with orchestra.
Her repertoire includes solo works (from J.S. Bach and Biber to Isang Yun, Luciano Berio, Alfred
Schnittke and John Corigliano) as well as the great Romantic and Classical concertos and
contemporary works for violin and orchestra.
In 2019, she won a violin by Lorenzo Storioni, Cremona 1774 at the Competition of Sinfonima
Foundation for Instruments in Mannheim.